Tuesday, June 24, 2014
Whether your summer travel plans include trips to the mountains, the beach, or just a well-placed hammock in your own backyard, you should never leave home without packing a great book or two. The BBF staff has rounded up our personal summer book recommendations to inspire your own literary travels this summer. Happy reading!
Deborah Z Porter, Founder and Executive Director
Never Mind by Edward St Aubyn
I just finished Never Mind, the first of the Patrick Melrose novels by Edward St. Aubyn. Perceptive and gripping, it is a sometimes painful to read but beautifully told story of one young man's growing up in the UK among the idle ruling class.


Shop Indie Bookstores
Thirty Girls by Susan Minot
Thirty Girls, by BBF Keynote Susan Minot, will also haunt you as you contemplate violence and its toll on everyone involved.


Shop Indie Bookstores
My Life in Middlemarch by Rebecca Mead
My Life in Middlemarch, by Rebecca Mead, is of interest to anyone who can't get enough of George Eliot.


Shop Indie Bookstores
The Faraway Nearby by Rebecca Solnit
The Faraway Nearby, by Rebecca Solnit, is an essay, a memoir, a meditation on the spinning of tales and on the threads of stories that are knitted together to give a life meaning.


Shop Indie Bookstores
Norah Piehl, Deputy Director
This One Summer by Mariko Tamaki, illus. by Jillian Tamaki
If you have a special summer place, take this beautifully illustrated graphic novel with you when you go there this summer. Rose has gone to the same lake house with her parents each summer since she was a little girl. This year, however, everything—-from Rose's family dynamics to her friendship with a younger girl whose family also summers on Awago Beach—-seems different. Has the place changed? Or has Rose? The Tamakis explore the passage of time and the transformations of adolescence through this bittersweet chronicle of a single summer, depicted in moodily monochromatic purples.


Shop Indie Bookstores
The Watcher by Charlotte Link
Thanks to the popularity of Scandinavian thriller writers, American audiences are becoming more used to reading novels in translation, and consequently discovering a whole new world of terrific suspense writing. Now the Germans are getting in on the act. The Watcher is blockbuster German author Charlotte Link's second novel to be translated into English, and I'm betting it won't be the last. Its panoramic narrative soon focuses in on a handful of characters, all of whom have something to hide—-means and motives remain murky right up until the surprising end.


Shop Indie Bookstores
Isla and the Happily Ever After by Stephanie Perkins
Okay, this book doesn't actually come out until mid-August, but that gives you just enough time to read the already-published companions (Anna and the French Kiss and Lola and the Boy Next Door) to this exquisitely swoon-worthy novel. Perkins's latest stands on its own, but it's even more satisfying for readers of her previous work. Perkins is a true romantic and a swell writer to boot, making her novels ideal beach-bag material—-just make sure you pack tissues and sunglasses if true love makes you weepy.


Shop Indie Bookstores
Sarah Howard Parker, Director of Operations
Love Is a Mix Tape by Rob Sheffield
Sheffield, a writer for Rolling Stone, is probably best known for his appearances on various VH-1 I Love the __'s shows. This incredibly personal memoir, both sweet and devastating, recounts his courtship and early marriage with his wife using songs as touchstones for each chapter. Also, his taste in music is excellent, and (after you stop crying) you can check out the playlist. (Hint: an intrepid Spotify user has already done the work for you.)


Shop Indie Bookstores
Mind of Winter by Laura Kasischke
A BBF colleague who knows my favorite genre (ok, it was Norah!) recommended this novel to me and I couldn't read it fast enough. It has all my favorite elements: an unreliable narrator, psychological suspense, and an ending that I didn't see coming! Be warned: this one will stay with you (and not in a good way).


Shop Indie Bookstores
My Father's Dragon by Ruth Stiles Gannett
A certain member of my household has recently developed an attention span long enough to begin delving into longer bedtime stories. I never knew about this series growing up (the first one was originally published in 1948) but it's a perfect first chapter book with just enough pictures to keep the pages turning.


Shop Indie Bookstores
Mackenzie Kuester, BBF Intern
My Salinger Year by Joanna Rakoff
As someone studying memoir, I thought My Salinger Year was a great example of focus. Rakoff takes only one year of her life—her first year post-grad, working for the esteemed literary agent of J. D. Salinger—and writes about it with such detail and precision you would've thought she traveled back in time.


Shop Indie Bookstores
Where'd You Go, Bernadette by Maria Semple
I get it, I get it, I'm late to the party with this one. But between the unconventional style, quirky storyline, and overall rocket-fast pace, I found myself wishing I had invested the time sooner. This book is a great way to spark discussion about relationships, trust, and the new meaning of "normal."


Shop Indie Bookstores
Niki Marion, BBF Intern
Gut Symmetries by Jeanette Winterson
The act of reading this book is moving, unnerving, enthralling, and downright invigorating. Winterson always plays with time in unusual ways, and Gut Symmetries is no exception. There are lots of boats and accompanying symbolism involved in the narrative, so you'll catch a whiff of salty air that will bring you to the seashore no matter where you're reading it.


Shop Indie Bookstores
Journey by Aaron Becker
As a master's student of children's literature, I am compelled to include a picture book in this list. This particular one inspires all readers to escape the monotonous doldrums and explore the imaginative realm that resides just outside their front door. A perfect way to encourage indoor dwellers into the summer sunlight! (And look for the second installment, Quest, in August!)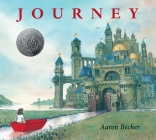 Shop Indie Bookstores
Any Sarah Dessen novels, but particularly The Truth About Forever or This Lullaby.
These books are my ideal YA summer romances. My copies are filled with sea water-warped pages and sand speckles because I always break them out for beach reading. As the tide comes in, Dessen's protagonists mature and overcome their emotional obstacles, and by the time the sun sets over the ocean, you'll be ready to take on the world with them.


Shop Indie Bookstores
Melanie McFadyen, BBF Intern
Cinder by Marissa Meyer
I normally try to avoid reading books based on their popularity, but when I heard some of my most trustworthy book-loving friends raving about Cinder, I knew I had to try it. After all, how could I resist a modern retelling of Cinderella with cyborgs? In terms of fairy tale adaptations (of which I've read a lot), this one is easily my new favorite. It is so smart and subtle, modifying not just the settings but the characters, creating richly developed, deeply complex heroines who do much more than sit around and wait for their equally compelling heroes. The first installment of the Lunar Chronicles sets up a story that goes far beyond a shoe abandoned at the stroke of midnight, and I encourage anyone who enjoys fairy tales and/or science fiction to give it a try.


Shop Indie Bookstores
Wintergirls by Laurie Halse Anderson
As a huge fan of Speak, I picked up Wintergirls by Laurie Halse Anderson partially out of curiosity to see if the author's other books could possibly be as engrossing and powerful (a question that I will never ask again). Wintergirls introduces us to Lia, who is struggling with an eating disorder even after her best friend has died from one. The strong narration allows us to see as Lia sees while also allowing us to see with horrifying honesty what she cannot, the brutal hold an eating disorder can have on someone. With subtle tie-ins to the myth of Persephone, Anderson has once again tackled an extremely difficult topic in a way that few have before.

Shop Indie Bookstores
Their Eyes Were Watching God by Zora Neale Hurston
In the interests of reading as much as possible this summer (and taking a break from books I might find in my Literature courses), I promised myself to stick to "light reads," i.e., no classics. I threw that rule out the window almost immediately for Their Eyes Were Watching God, one of those stories that I have always heard of and thought "Yeah, I'll read that one day." I'm glad I finally did, because this book introduced me to Janie Crawford, a strong woman searching for her true self, and her true love, willing to defy conventions and follow her own lead. I spent half of the book looking for Post-it notes to mark down my favorite quotes and passages.


Shop Indie Bookstores
Posted by Norah Piehl on 06-24-2014 at 12:00am